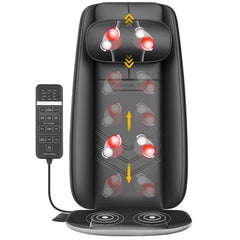 Q1: Are the back nodes of chair massager raised and lowered only by the remote or automatically movable on the chair itself ?
A1: Automatically.
Q2: Can I use it in the car?
A2: We do not recommend using it in the car. If you want to, please check the adapter parameters. DO NOT use it in a car's driver seat.
Q3: Can you put this on a sofa or couch?
A3: Yes, put this back massager chair on sofa, couch, recliner, or chair to enjoy your comfort massage.
Q4: Can i get a car charger for this massager?
A4: This massager doesn't include car charger.
Q5: Does this neck massager can be adjusted up and down?
A5: Yes, this massage chair pad comes with an unique flexible Shiatsu neck massager pillow with Heat, which can be adjusted vertically to fit for women or men of different heights.
Q6: Can you lay this flat on a bed.
A6: We do not recommend.
Q7: Is there a timer or auto shut off on this
A7: The default timer is 15 minutes, you can switch it to 20 minutes.
Q8: I can barely feel the heat. Is it defective?
A8: Please know that this massager is designed with neon lamp heat only. This means it only gives off very mild heat for safety purposes. It is also noticeable within 5-10 minutes of use.
Q9: Will it work 220-240v?
A9: Yes, it is rated 110v-240v so it will work.
Q10: Why does it only work while it's plugged in?
A10: Please know this massager is NOT CORDLESS or RECHARGEABLE. It will only work while it is plugged in.
Q11: The massager is too painful for me.
A11: The massager is designed for deep massage, so it may be painful for those who are not used to it, but it is not a product quality issue. If so, we recommend you to put a towel or a thin blanket between the massage point of the massager for a better massage experience.
Q12: For how long should I use the massager?
A12:We recommend to only use the massager for 1 cycle at a time around 15-20 minutes to avoid overusing the product and causing you pain. This massager is designed for deep massage and using it for too long may be painful.
Q13: Is there any restrictions using the massager with medical conditions?
A13: If you have health conditions, it is always best to consult your doctor first before using the product to know whether it is safe to use it or not.