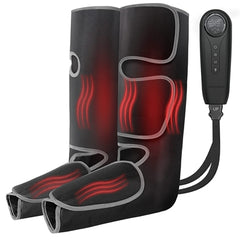 Q1: Does it provide shiatsu massage?
A1: No, this massager is designed to simulate squeezing. It does not provide a vibration or shiatsu function as there are no rollers inside the device.
Q2: How does this product massage?
A2: There're 2+2 airbags inside, which will be inflated and deflated to simulate the kneading and stroking like human hands. It can relax muscles, increase circulation and relieve fatigue.
Q3: Why can't I feel the heat?
A3: The heating function is off by default. You can press the heat button to turn it on and wait for 3-5 minutes. Please make sure the 2 air hoses are inserted into the controller correctly and completely.
Q4: What should I do if I feel the temperature is too hot?
A4: Please use the lower temperature or turn it off. It's better to wear trousers if necessary.
Q5: What should I do if I feel the massage intensity is too strong or light?
A5: There're 3 intensities of air pressure to select via the controller, please select the intensity which is fit for you. You can also adjust the intensity by changing the tightness of the velcro on the wraps.
Q6: Why does it not work when I press the button?
A6: Please ensure the 2 air hoses are inserted into the controller, otherwise, it will not work.
Q7: How long should we use it?
A7: We suggest you use it 1-2 times every day, and 20 minutes per time.
Q8: Why does the controller get hot?
A8: If the massager keeps working for too long, it's a normal phenomenon that the controller gets hot. It's better to let the massager rest for 10 minutes.
Q9: Why does the controller make a sound?
A9: The sound comes from the working air pump in the controller, providing air continuously to the airbags in the wraps. It's a normal phenomenon.
Q10: Will it work with 220-240V?
A10: Yes, it is rated 100V-240V so it will work.
Q11: Can it be used in bed?
A11: Yes, you can.
Q12: Can you by-pass the 20 minute timer function and have it just run without having to reset it?
A12: No, the 20 minute shut-down is automatic, for safety reasons.
Q13: Does it use batteries?
A13: No batteries required. It's electronic and you have to plug it into an electrical outlet. It's not cordless.
Q14: What maximum diameter will these allow?
A14: 23.6 inches max (calf circumference).